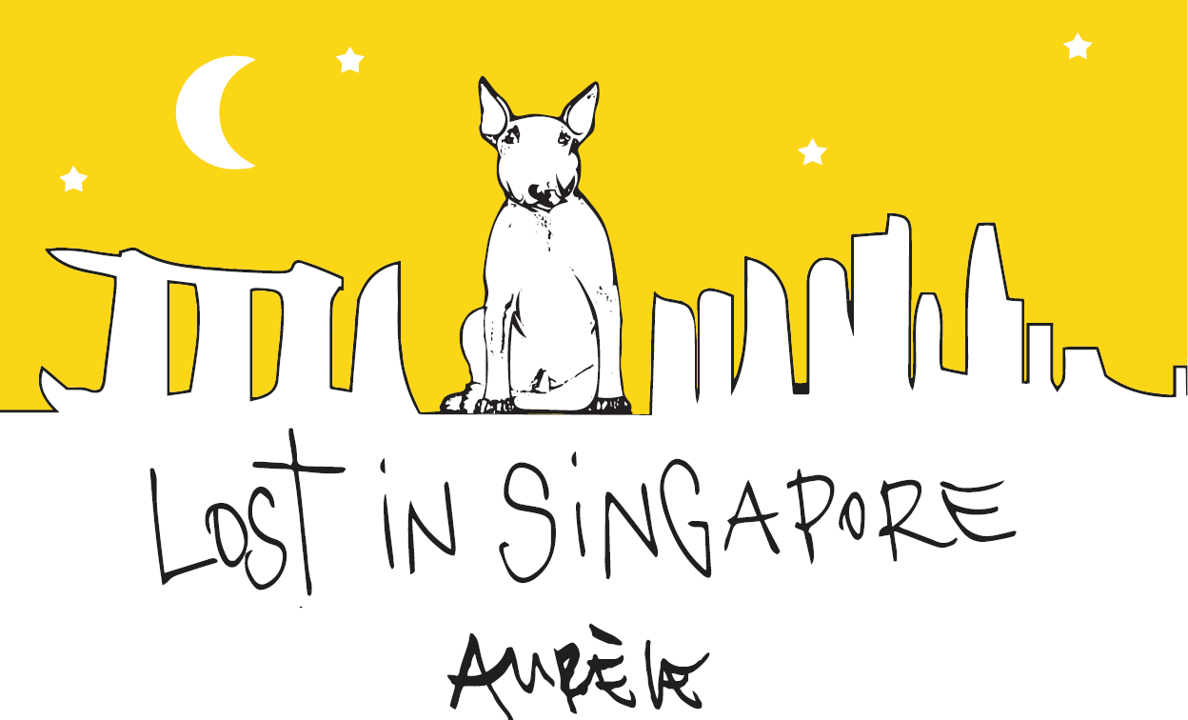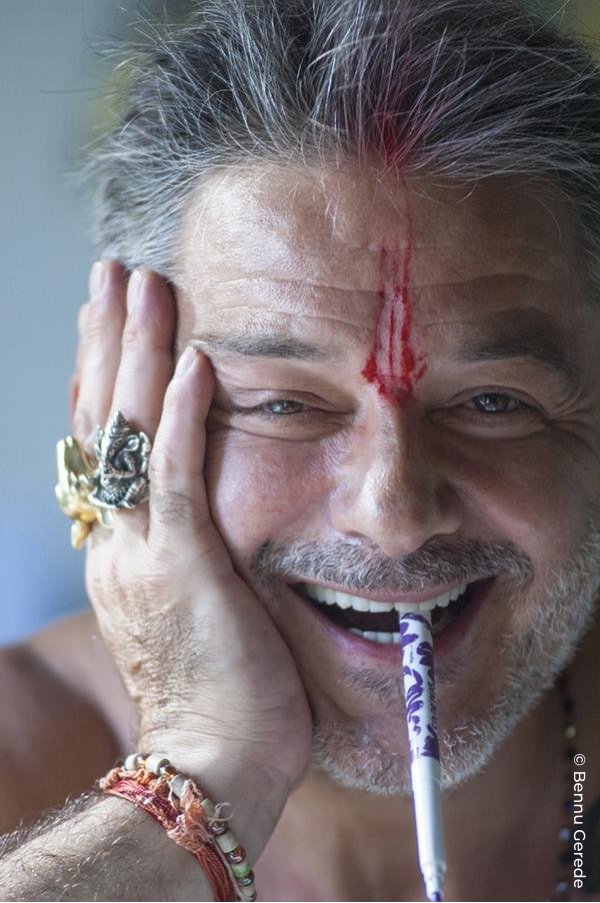 BIOGRAPHY OF AURÈLE RICARD 'LOSTDOG'
Aurèle Ricard is a French post-industrial visual artist. His "LostDog" is a trademark, his yellow, a color of hope. Aurèle is the prototype of a generation of artists without any complexes or moods, driven by on-the-ground action more than just a simple artsy attitude, a way of being more than a way of showing. As an artist, Aurèle can be recognized by a certain power of assertion in his works – if one word could define his relationship to the world, a word which animates both his work and his life, it would undoubtedly be ACTION. Aurèle's collected works take on the appearance of a fight: a fight for Art as much as a fight for Life. An engaged and committed artist, Aurèle's LostDog is symbolic of the urgency and resistance to the plague of an era in which he cultivated his art. Aurèle has been developing, for more than twenty-five years, the same radical project of denouncing modern wanderings. Its goal: to mobilize present and future generations in the face of wars, epidemics, ecological catastrophes, political and media excesses, precariousness and exclusion, inequalities, and overconsumption. In Aurèle's world, art is a true "mirror of modernity", confronting reality and challenging it to be better.

Aurèle Ricard, known as Aurèle LostDog, born Paris 24 October 1963, is a French postindustrial visual artist.


He lives and works between Paris, New York and Shanghai.


A self-taught fanatic of the oeuvre of Yves Klein, in 1985 he perfected chrome yellow no. 2, which he baptized, in homage to International Klein Blue, International Aurèle Yellow (IAY). The patent for the formula was filed at the French INPI (National Institute of Industrial Property) four years later, in 1989. In 1986, he met the "Popular Powers," street painters Fred Kleinberg (Fred La Trace) and Mano Solo (Boredom).
One night, at a bend in the avenue, he discovered a poster pasted high up on a lamppost: it was a wanted notice for a lost dog by the name of Bob, offering $100 reward to who- ever returned it to its owner. The poster had a naïve drawing of a bull terrier, framed by these words: "$100 Reward for friendly 'Bob' the Bull Terrier wanted Lost Lost Lost." In it the artist thought he saw all the words and ills of our time:
Bob the LostDog stands for you and me, the $100 for omni- present money, the Reward for a spiritual or material quest, Friendly for the friendship and love that all the world seeks, Wanted for the will, the first step to changing the world, and Lost Lost Lost for lost vis-à-vis the wars, pollution, epidemics.
It was also around this time that he met Andy Warhol, with whom he envisaged an artwork about the image of a dog: a series of screen-prints of the lost dog. This collaboration was brutally interrupted by the death of Andy Warhol on 22 February 1987. Three days later Aurèle exhibited, in the Paris Galerie Duval Dunner, a representation of the "lost dog" poster made of melted tar and bits of metal salvaged from the building site in Paris of the Pont Caulaincourt, currently undergoing restoration. As the first public homage to the pioneer of Pop Art, the exhibition announced the end of industrial art, with the "lost dog in tar" being dubbed the "
first postindustrial work of art
." That same year, in New York, he named and founded the
Service Industriel du Dollar Artistique (SIDA)
[The Artistic Industrial Dollar Service (AIDS)] and created the magazine Polazine.
In 1988, Aurèle left Paris for a time, settling in the Moulin de la Caze, Naussac
,
in Aveyron, where he created the IAC Foundation
(Information Antécédent Comportement
/ International Aurèle Corporation): a creative and exhibition space for contemporary art. There, he worked on, among other things, a series called SPA (
Symbole Pirate Ajouté – Sans Parler des Autres – Sans Prétention Aucune – Saga Protectrice de l'Art
), which described the trajectory of Bob the Dog, lost in the work of the greats of contemporary art history: Arman, Marcel Duchamp, Raymond Hains, Yves Klein, Bertrand Lavier, Andy Warhol.
In 1989, the
Galerie Lara Vincy invited him to show the SPA series in Paris. That series would give rise to a piece of work entitled SPA, created on the initiative of art critic Pierre Restany, whom he'd met a few years before. Still in 1989, Aurèle struck up a friendship with Jacques Villeglé, who put him into contact with the Belgian art dealer Sabine Wachters, in whose gallery a year later he mounted a retrospective covering four years (1986-1989) of his production about the image of Bob the Dog. At the same time he participated in many collective exhibitions in France and abroad.
In 1991, he was invited to show his works at American gallery-owner Leo Castelli's. On 22 February of that same year, in homage to Andy Warhol and Yves Klein, he flooded the Obelisk in the Place de la Concorde in Paris with yellow light by placing sheets of coloured gelatine before the projectors that surround the monument. This performance resulted in a film,
Yellow Obélisque
, made by the artist Yuris Lesnik. It was also at this time that he began a regular collaboration with the stylist: flushed with the success of the exhibition Think or Thanks a Lot, presented at the Galerie du Jour in 1995, Agnès b. suggested to him to prolong the exhibition in her Tokyo gallery, the B. Yourself Gallery. The following year Aurèle went for the first time to Japan, where he presented
Plein Soleil
[Full Sun]. The exhibition went on the road and was enriched with new pieces created on the spot. The experience would give rise to the exhibition Aurèle at the Fukuoka Museum of Modern Art in 1997.
During this period Aurèle was invited to
Château de Bionnay
by curator Morgane Rousseau and would reside there for a year. Following this he discovered India. In 1996 he created a hotel in Goa which he christened the Ninon de la Caze Hermitage and launched the construction, with Petr Kavan, of a sculpture workshop in the south of India at Mamallapuram in the state of Tamil Nadu. The atelier began functioning in 1998: ten people work the famous blue granite stone there all year round. The following year Aurèle created a monumental sculpture, Jungle Big Heart, for Auroville Art School.
During a trip to New York in 1999 Aurèle made the acquaintance of American photographer Nan Goldin, in whose house he lived and worked with his partner of the time, Joana Preiss. The outcome of this three-way collaboration was the film
La Ballade de l'Amour
, shown for the first time during the exhibition Dire Aids at the Museum of Contemporary Art, Turin, in 2000.
In May 2005, Aurèle participated in the international contemporary art fair in Shanghai. There he made the acquaintance of Pia Pierre, director and owner of the Hong Merchant Gallery, who, given the enthusiasm of the Chinese public, invited him to show at the second session of the fair in the autumn. Meanwhile, Aurèle participated in the collective exhibition, Two Europe Two Asia, at the Duolan Museum of Modern Art in Shanghai. That same year, in France, with the Galerie Lara Vincy, he showed at the Paris FIAC; organized a personal exhibition, LoveLoveLove, at Michel Klein's place (Rive Gauche), and participated in two exhibitions: Yo To Be Gitan with Fred Sathal at the Palais de Tokyo in Paris, and
Animalités
[Animalities] at the Maison des Arts Georges Pompidou in Cajarc. Still in 2005, Aurèle founded IAC Editions (
Information Antécédent Comportement
) and made six dogs in bronze lacquered in chrome yellow no. 2 (IAY) as part of a public commission initiated by the
Musée des Beaux-Arts Denys-Puech
in Rodez.
In 2006, aside from his participation in many collective exhibitions, the artist showed in three international contemporary art fairs (Art Paris, Art First in Bologna and the Shanghai Art Fair), as well as at the Urban Sculpture Biennale in Shanghai, a city in which he decided, that year, to set up a studio.
In 2007, with a view to Expo 2010 in Shanghai, Aurèle and French architect François Scali presented the project of erecting, in the modern quarter of Pudong in Shanghai, the lost dog as an 80-metre-high tower in translucent, luminous resin. The Yellow LostDog would house an itinerary-cum-museum (the LostMuseum), the twin ambition of which was to forewarn and to inform by preserving all that man destroys, loses, and has already lost in his headlong rush towards modernity: a museum "of the lost city and of engulfed cities." This proposal, comprising 4,300 m2 of surface area over eight levels, was to remain at the project stage.
In 2009, Aurèle was invited by the French state and COFRES to participate in Expo 2010 Shanghai's theme of Better City - Better Life on the theme of sustainable development and the "new" environmental technologies in an urban context. For the occasion, and with the help of his publisher Ilona Delahaye, he assembled a team of Chinese engineers and developed a giant vegetal sculpture: a 4.5-metre-tall dog covered in a mass of depolluting plants (LostDogCo2), inspired by Jeff Koons's artwork Puppy (1992). "It's a green sculpture made of depolluting plants," Aurèle explained, "It's also the prototype of a new generation of artworks that are participants in their own message." Concurrently, the Chinese government and the City of Shanghai awarded him the Shanghai Art Fair's annual sculptor's prize.
In 2010, LostDogCo2 was presented from 1 May to 31 October at Expo 2010 Shanghai China in the atrium of the French Pavilion alongside works by artists Daniel Buren, Zao Wou-Ki, Yan Pei-Ming and Chen Zhen, chosen to represent France at the exposition.
That same year the artist opened a LostDog Gallery in
Le Passage
, an important complex located in the Moganshan arts district in Shanghai city centre.
In 2011, chez Lara Vincy, Aurèle presented
Chantons sous la pluie
[Singin' in the Rain], a series devoted to the acid rain of Fukushima in which his LostDogs cried sequin tears. That same year the town of Rodez and the Musée Denys-Puech gave him a free hand for summer 2012. Twenty years after his first retrospective,
Devoir d'ingérence ou délit d'initié?
[Duty to Intervene or Insider Offence?], Aurèle put his name to a huge, open-ended, participative and collaborative work entitled
L'Art, c'est les Autres
[Art is Other People]. The show consisted of the ephemeral installation, transformation and exhibition-tour of four GiantLostDog sculptures. At the same time, an army of 120 dogs moved into the museum basement for an exhibition called
L'Utopie de vouloir conclure
[The Utopia of Wishing to Conclude].
In 2013, Aurèle travelled between Italy, where he produced his first Carrare marble pieces and participated in the Pietra Santa and Hong Kong sculpture biennales, and Hong Kong it- self, where for the year 2014 he developed a project for the official venue of the French May Festival. In collaboration with 1881 Heritage and Avenue des Arts Gallery, he showed two monumental sculptures in a French-style garden restored for the occasion in Tsim Sha Tsui.
In No Other Future But The Future the artist reworked two themes that are dear to him: LostDogCo2, a genuine self-activating artwork communicated a sense of urgency but above all proposed a way forward for future generations; the other work, GiantYellow, would be transformed during a performance with children.
In 2015, Aurèle got involved in two adventures: Fukushima mon amour and the ICCARRE project.


Fukushima mon amour, with Pascal Maugein, would bring together, over a period of almost two years, some fifty artists, including Jean-Luc Vilmouth, Jean-Charles de Castelbajac, Richard di Rosa, Joël Hubaut, Louis Jammes, Fabrice Langlade, Roberto Martinez and Philippe Perrin, etc. The exhibition denounced the silence and lack of action about the nuclear catastrophe of Fukushima.
In parallel, he formulated the visual identity of the ICCARRE Protocol project (
Intermitents en cycles courts les antirétroviraux restent efficaces
/ Intermittent in Canny short Cycles the Anti Retrovirals Remain Efficient) of his friend Professor Jacques Leibovitch.
In 2016, he created the LostDogTemple, AIR, Dune (India) and mounted the exhibition Warhol / Aurèle at the Galerie Taglialatella in Paris.


In 2018, he was one of the guests of honour at the first Bangkok Art Biennale. Since then, he has continued to take his Lost Dog around the world to raise awareness.
It was during his last exhibition in Los Angeles in April-May 2021 that he launched the "Lost in" series which gave birth to "Lost in Singapore."